The Bridges Cup officially became a global mid-amateur event in April, when it hosted its second-ever tournament at France's Les Bordes Golf Club. The first Bridges Cup was held six months earlier at South Korea's Nine Bridges. Two continents, two World Top 100 courses, two unforgettable showdowns — it's well on its way to becoming one of the globe's most prestigious mid-amateur events.
The 2023 Bridges Cup brought together 24 elite mid-amateur golfers to compete in a Ryder Cup-style tournament on a 1,400-acre golf oasis located 90 minutes south of Paris. Les Bordes offers two championship tracks and a par-3 course. The Old Course, a 7,000-yard Robert von Hagge design, opened in 1987 and was the top-ranked course in Europe for several years. It's tree-lined and peppered with undulations that demand precision, making it an extremely challenging test. The New Course, a 7,300-yard Gil Hanse design, opened in 2021 and is one of GOLF's Top 100 Courses in the World. It plays firmer and faster than the Old Course, with large waste areas and fascinating green complexes greeting golfers on nearly every hole. Lastly, the Wild Piglet is a 10-hole par-3 course that is designed to engineer fun. The New Course and Wild Piglet are the only Hanse designs in Europe.
Each of Team U.S.A.'s and Team Europe's 12 competitors were hand-picked by their captains — Jeff Fujimoto leading the USA, and Simon Holt heading Europe. Fujimoto, a member at Whisper Rock Golf Club, has strong roots in the amateur and pro game, and he's an advisor at 8AM Golf. Holt, a North Berwick member, runs luxury tour business Connoisseur Golf, and he's also a GOLF Top 100 Panelist. Captains select their teams based on the following criteria: a strong résumé in tournament play, a respected reputation on and off the course and an affiliation with a quality club.
The rules, an adaptation from traditional Ryder Cup style, are simple: six four-ball matches on the New Course on the morning of Day 1, followed by six four-ball matches on the Old Course in the afternoon. Six foursomes matches (alternate shot) opened Day 2, with 12 afternoon singles matches closing the tournament. Thirty points up for grabs. The question: which team could get to 15.5 first?
And if you were wondering if there would be any fireworks, American Andrew Medley (Whisper Rock) provided a glimpse in the first match of the week. Teaming with Taylor Wood (Montecito Club), Medley holed out for eagle on the par-4 3rd hole, and he added his second eagle of the round on the par-5 13th en route to the Americans' first point.
"Andrew Medley was on fire," Holt said. "He was definitely the standout and certainly the difference in the first match."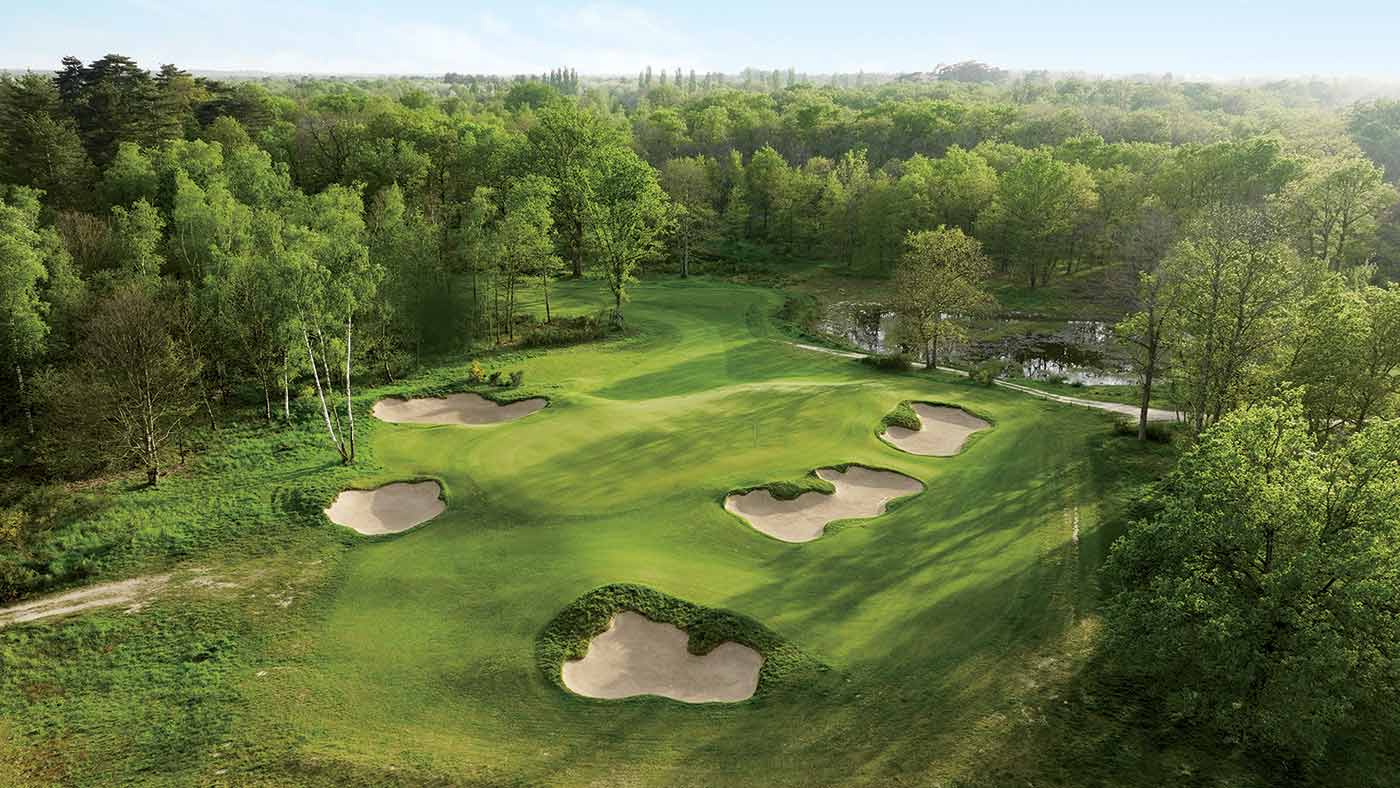 The 7th hole of the New Course at Les Bordes Golf Club.
BRIAN RICHARDSON
Americans Hoyt McGarity (Bel Air Country Club) and Scott Anderson (Muirfield Village) were 2 down after two holes in their match, but they fought back to tie it after seven holes, and McGarity birdied the 10th for his squad to go 1 up. They closed it out on the 17th green for a 2-1 U.S. lead.
"We had to grind it out," said McGarity, the CEO of 8AM Golf. "We got off to a rocky start on the first hole, second hole. We looked at each other as partners and said we got to pull it together here quickly, and I think we played great after. It was scrappy, but we stayed in every hole and kept the pressure on."
The Americans' other morning point came from Charlie Grace (Ohoopee Match Club) and Drew Stoltz (Whisper Rock), who were 1 down after five but made five birdies in their next 10 holes to win 5 and 3 en route to a split morning session, 3-3.
"The last few matches coming in, they could have went either way, but Europe prevailed," Fujimoto said. "But 3-3, we're excited, we're happy with that."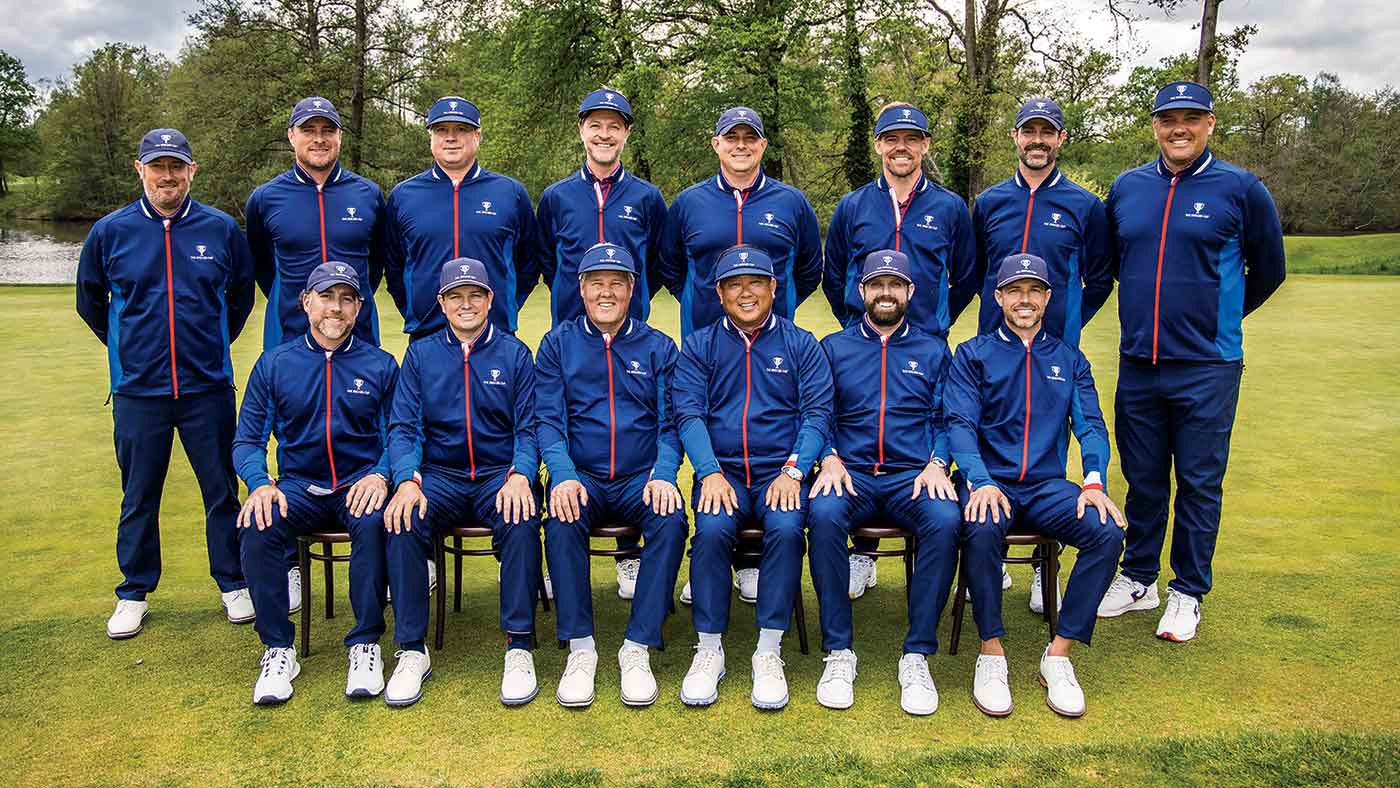 Team U.S.A.: Back row: Scott Anderson, Drew Kittleson, Brian Williams, Andrew Medley, Trey Marucci, Drew Stoltz, Del de Windt III, Ben Hayes. Front: Tom Nolan, Hoyt McGarity, David Porter (vice captain), Jeff Fujimoto (captain), Charlie Grace, Taylor Wood.
OISÍN KENIRY
Stoltz and Drew Kittleson (Whisper Rock) later added a clutch point to cap the afternoon session. Tied through 17 holes, Stoltz and Kittleson both stuck approaches close on the par-4 18th as both of their playing partners found the water fronting the green. The Americans took a 7-5 lead into Day 2.
Europe was optimistic in its foursomes chances and got off to a hot start on Day 2 by leading in four of the six matches, but the Americans turned it around and dominated the session 5-1 to grab a 12-6 lead heading into the final 12 single matches.
The Americans needed just three points to retain the Cup, but Europe again got off to a strong start. It led in four of the first five singles matches, but Medley eventually earned the first U.S. point with a 1-up win.
Europe won four of the next five matches to cut the lead to 14-10, but McGarity's 5-and-4 victory over Tom Etridge, Europe's vice captain, pushed the U.S. to the 15 points needed to retain the Cup. Wood, a two-time All-American at the University of Southern California, later sealed the U.S. victory. The U.S. won seven of the 12 singles matches to win 19-11.
We talk about golf a lot, and then we talk about families and friendships, and the last time we saw each other — and hopefully the next time we see each other.
"We're excited that we won the 2023 Bridges Cup," Fujimoto said. "They wanted to come out here and play well and represent the USA and beat the Europeans."
And the club, Les Bordes, turned out to be the perfect setting.
In the 1980s, Baron Marcel Bich, founder of ballpoint pen behemoth Bic, spotted the area's untapped potential for a world-class golf course. He hired von Hagge to bring his vision to life, but Bich kept Les Bordes overwhelmingly private until his death in 1994. The club is now changing — and quickly. Since 2018 it's been owned by a London-based private equity firm founded by Driss Benkirane, an avid golfer with a new vision for Les Bordes, his goal to mold it into one of the premier 36-hole facilities in the world. Benkirane, a scratch golfer and member at other top clubs in Europe — and his first-rate team of veterans of iconic Sunningdale, Morfontaine and North Berwick — has infused the property with fresh energy and ambition (and was thrilled to host the world's top mid-ams).
The current focus is on increasing membership (both local and international, although it's selective) and building on-site luxury homes and a wellness resort. The estate also has family-focused amenities, and a Six Senses hotel and spa is set to open in 2025. The hotel will be open to the public, although the golf course would still be members only.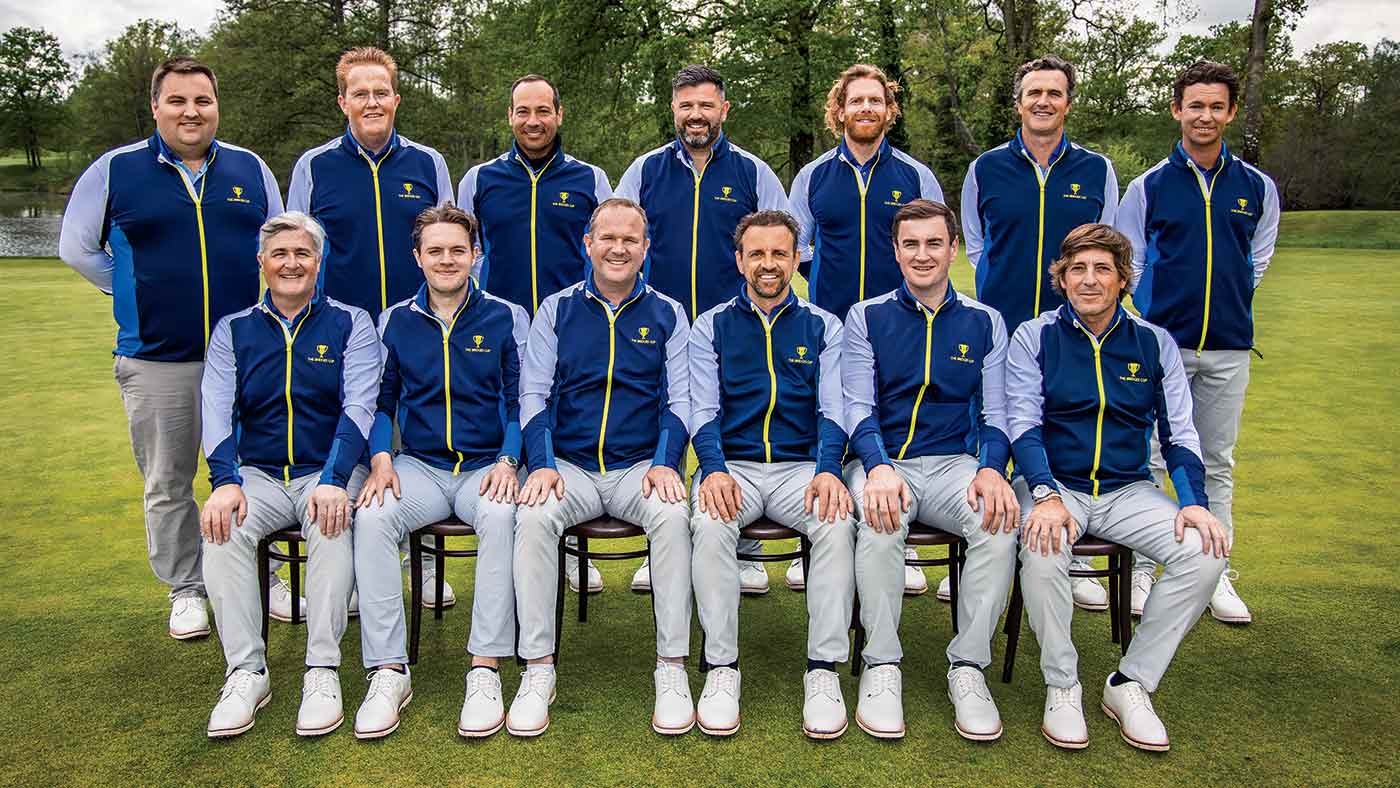 Team Europe: Back row: Gavin Dear, Darren Crowe, Rodrigo Soares, Michael Smyth, William Shucksmith, Antoine Delon, Daniel Schmieding. Front: Colin Loveday, Jacob Austin, Simon Holt (captain), Tom Etridge (playing vice captain), Ollie Daws, Jacobo Cestino.
OISÍN KENIRY
The growth of Les Bordes — a diverse club consisting of 20 different nationalities, with about 50 percent American members — mirrors the growth of the Bridges Cup. These matches began when CJ Corp, one of South Korea's leading holding companies, decided to invest in the amateur game just as it had in the pro game. It leaned into this concept of bringing together the world's top mid-amateur players at the world's top venues to create these memorable weeks.
"We talk about golf a lot, and then we talk about families and friendships, and the last time we saw each other," Holt said, "and hopefully the next time we see each other."
The 2024 Bridges Cup is scheduled to be held at Haesley Nine Bridges, another of South Korea's world-class gems, where CJ will once again play host. Only time will tell where these matches will be held in 2025 and beyond.
Josh Berhow contributed to this story.