SAINT-LAURENT-NOUAN, France — The first day of matches at the Bridges Cup has wrapped. The U.S. and Europe tied with three points each after the morning fourball matches, then Team USA pulled ahead during the afternoon. The U.S. leads with seven points over Team Europe's five points heading into Sunday.
After watching 13 hours of golf on Saturday, I noted three qualities that stood out: the excellence of play; the beauty and variety offered by both courses at Les Bordes; and the unique camaraderie that results from team match play.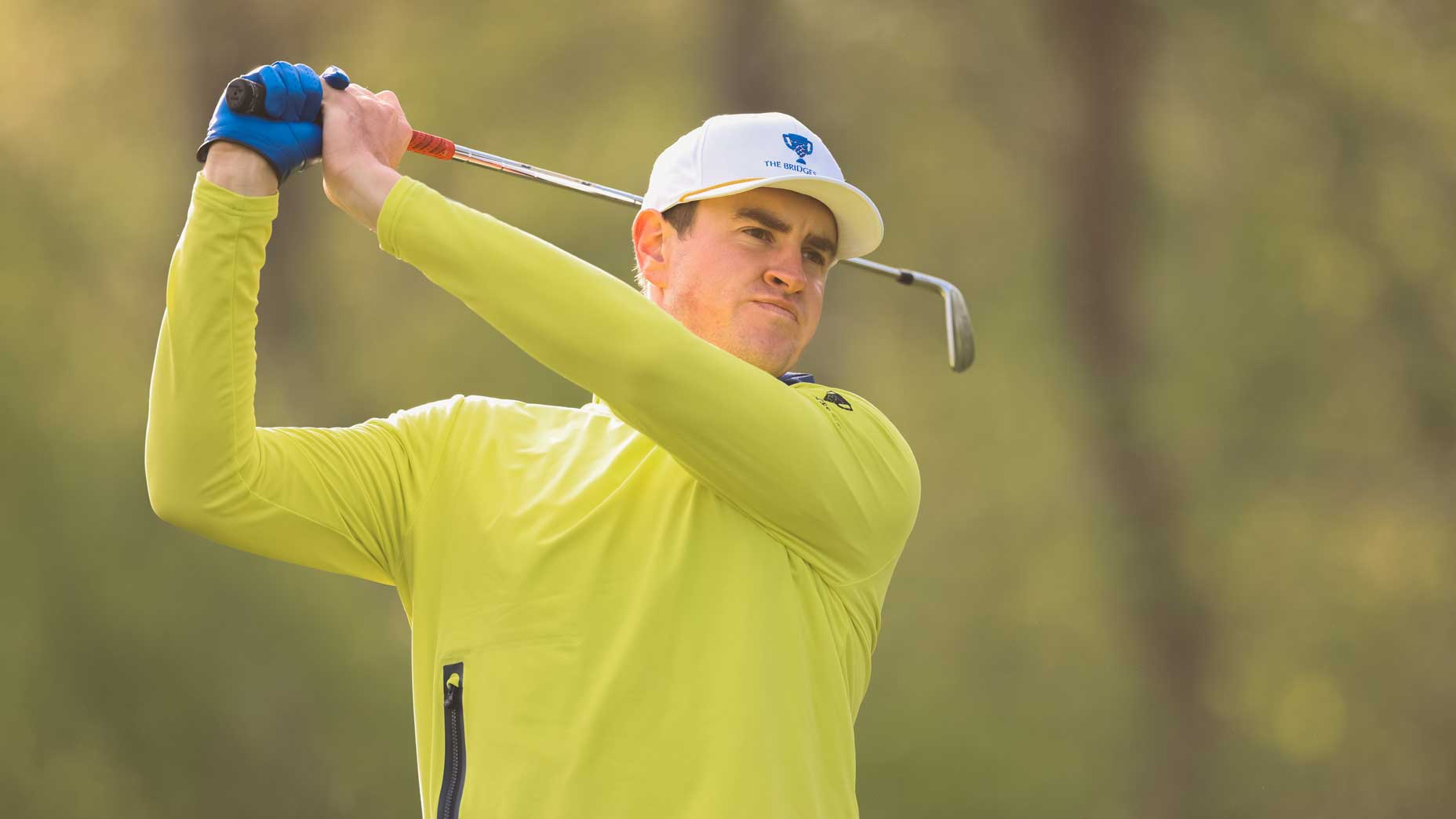 Team Europe's Ollie Daws plays to a plus-5 handicap.
OISÍN KENIRY
Team USA and Team Europe each have 12 competitors who all have plus-handicaps — the average handicap of Team USA is +2.7, and Team Europe's average is +3.5. There were at least 86 birdies recorded on Friday, along with five eagles. I've watched a lot of tournaments at a variety of levels, and I was surprised by the quality of play during this first day of Bridges Cup. Especially coming down the stretch, with Team Europe's Ollie Daws and Team USA's Drew Kittleson each nearly eagling their final holes to put points on the board, being a spectator was a blast.
A large practice green sits right next to the first tee at the Old Course at Les Bordes.
OISÍN KENIRY
The morning's fourball matches were held at Les Bordes' New Course — a 7,300-yard Gil Hanse design that opened for play in 2021. Its open fairways, which are built on a sandy base, play firm and fast. Large waste areas and fascinating green complexes greet golfers on nearly every hole, and the course flows seamlessly from start to finish.
The afternoon's fourball matches were held at the Old Course, a 7,000-yard Robert von Hagge design that opened in 1987. Unlike the New Course, which is wide open and designed to play low, the Old Course is tree-lined and peppered with mounds and severe undulations that demand precision from every shot. It is notoriously difficult — for many years, a golfer's name was added to a board inside the clubhouse if they managed to break 80, and up until 2021 Jean Van de Velde held the course record with a score of 1-under 71 (that record is now at 66). For golfers and spectators alike, the tale of two courses made for an interesting one-two punch on this 36-hole day.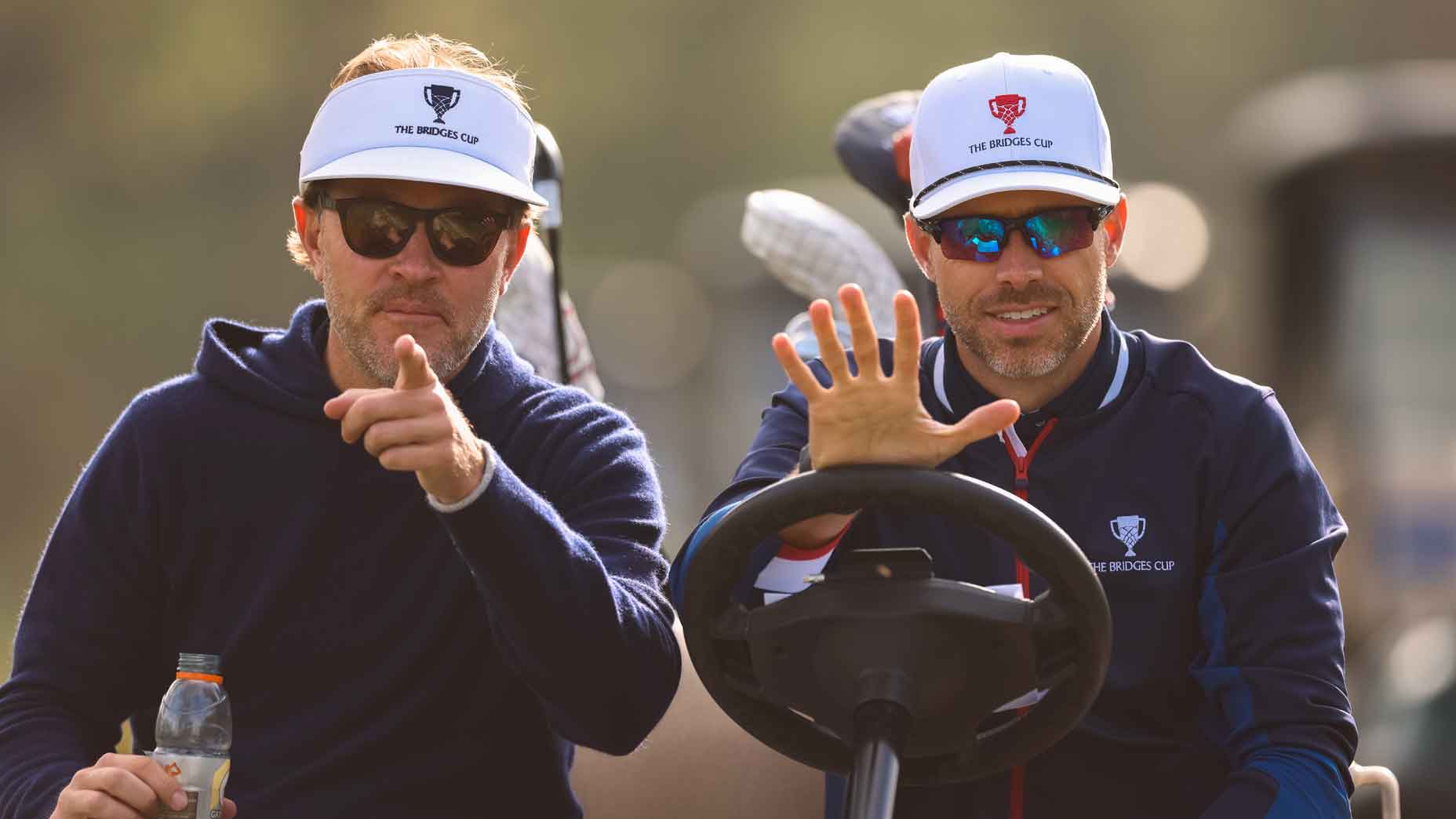 Partners Andrew Medley and Taylor Wood were so unstoppable during their morning fourball match, Team USA captain Jeff Fujimoto kept them together for the afternoon matches (which they won again).
OISÍN KENIRY
Lastly, the friendships that ensue from team match play is unparalleled. Golf is too often such an individual sport, it's difficult to feel like a teammate when you're playing your own ball. Watching these guys get into it was a blast, and it left me wondering why more golf tournaments aren't structured as true team events.
Two rounds at Les Bordes remain — foursomes matches on the New Course will kick off the action on Sunday, followed by singles matches on the same course.