Thirty elite amateur golfers walked through South Korea's Gimpo airport in late October pulling Bridges Cup-branded travel bags. They were also wearing matching branded hoodies and carrying identical backpacks. Together, they boarded the Bridges Cup-exclusive Boeing 737 that would fly them to Jeju Island, a place often referred to as the "Hawaii of South Korea" and home to Nine Bridges, a World Top 100 Golf Course that meanders around the island's mountains.
The unison of movement through the airport was impressive. These golfers, who'd traveled from seven countries, were sporting the gear they'd received for an event they'd never heard of just six months prior. In a grand yet effortless fashion, this congregation at Gimpo initiated the inaugural Bridges Cup, a golf tournament that is positioned to become a mainstay within the amateur circuit.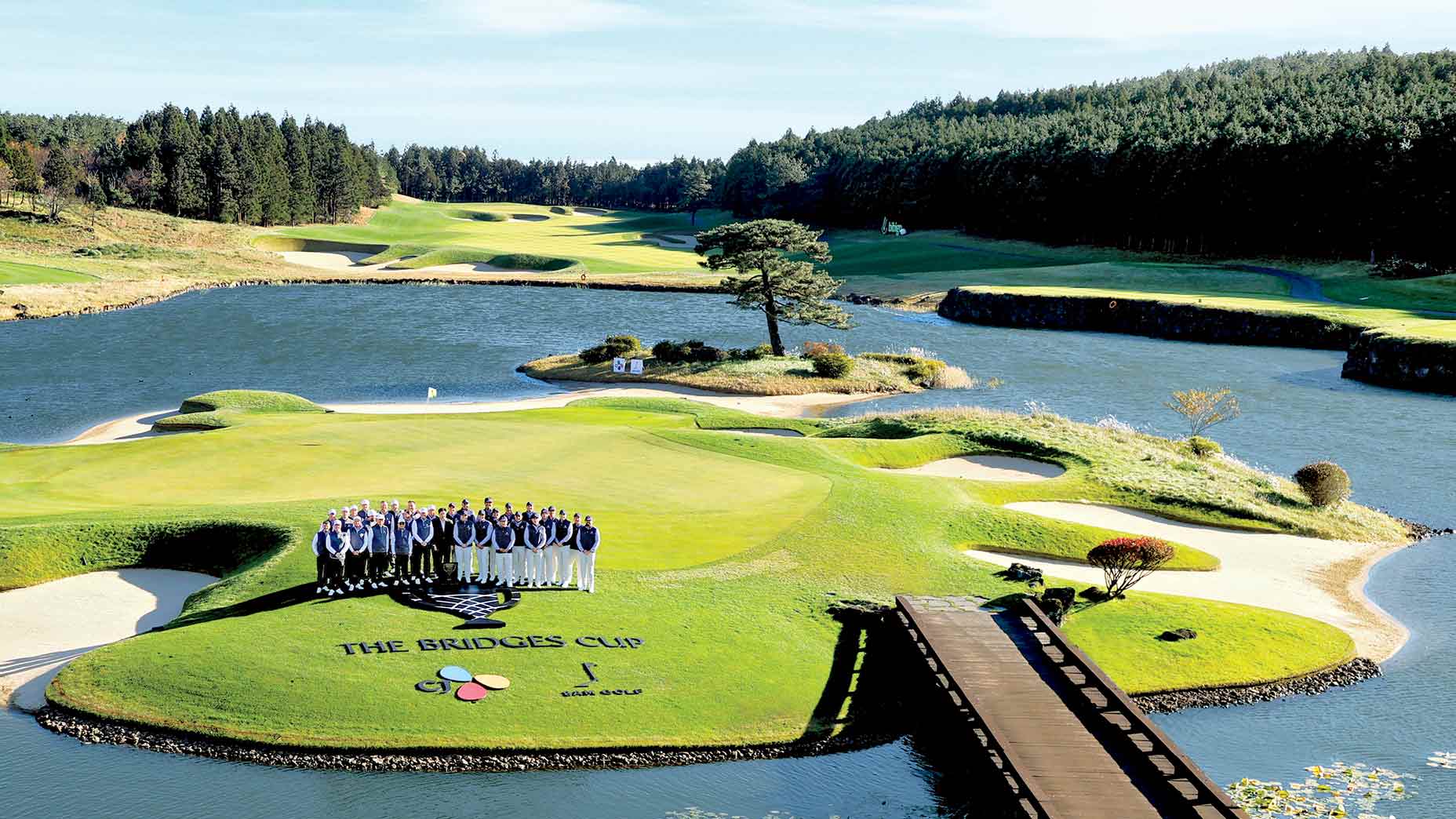 The teams gather around the trophy on the 18th green at Nine Bridges to kick off the tournament.
MIN SU YONG
The Bridges Cup is the brainchild of Jay-hyun Lee, chairman of CJ Group, which is one of South Korea's leading holding companies that oversees a variety of businesses from food service to biotechnology to media. Lee's investment in the professional game over the last decade has been profound. CJ Logistics, a branch of Lee's CJ Corp, currently sponsors nine professional golfers who compete on seven tours. And the CJ Cup at Nine Bridges is the PGA Tour's first-ever event in South Korea. Winners since the inaugural event in 2017 include Justin Thomas, Brooks Koepka and Rory McIlroy, and it has guaranteed to offer a purse that exceeds $9 million each year through 2026.
Lee is now focusing on the amateur game in addition to pro golf, and he's leaning on 8AM Golf, a holding company that owns or supports a dozen golf brands (including GOLF magazine and GOLF.com), to make that amateur investment come to life. Lee and 8AM Golf agreed that adding an elite match-play team event to the calendar of amateur championships was the most profound way to support the nonprofessional game.
This was easily the coolest experience of my life.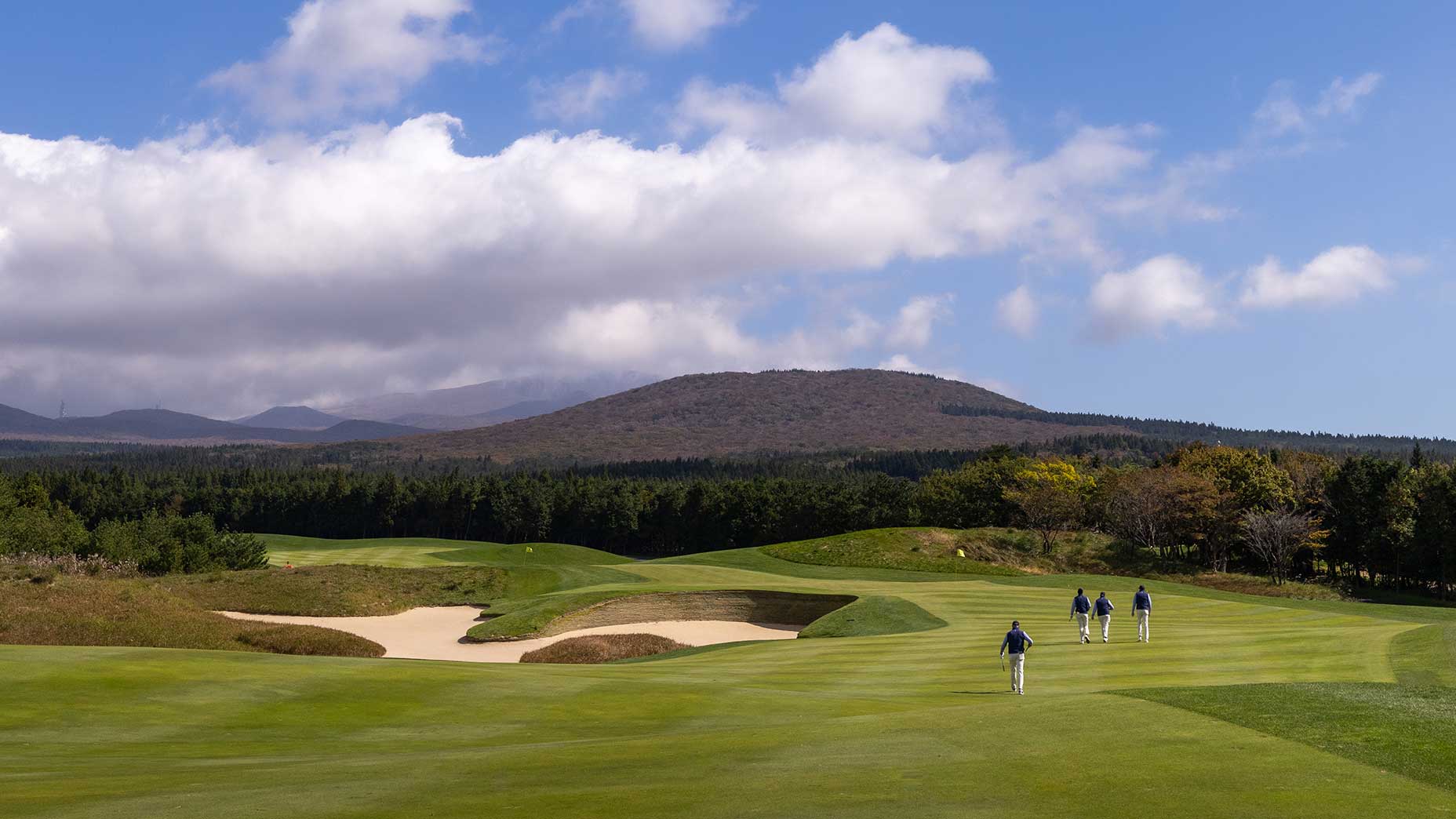 This event, however, would need to feel far different from others on the amateur circuit. It would treat its competitors like top-tier pro golfers — each player would receive uniforms and travel gear ahead of getting flown to the venue. Once on site, the golfers would play a course worthy of hosting a premier professional event. Nine Bridges, which is South Korea's top-ranked course, is meticulously maintained and offers a variety of holes that test every part of a golfer's game. The course would be peppered with scoreboards, the competitors would get interviewed during and after their rounds and all meals and logistics would seamlessly be taken care of. To play in the Bridges Cup would be to understand what it's like to compete in the most professional team events.
The amateur golfers who competed in this tournament were handpicked by each team's playing captains — Team USA's Hoyt McGarity, president of 8AM Golf, and Team International's Simon Holt, CEO of the Netherlands-based holding company Top 100 Golf B.V. When identifying potential participants, the captains valued a player's golf résumé (previous tournament results, affiliated clubs, number of courses played, etc.) and personality to ensure this debut event was a success in terms of quality of play and overall atmosphere. The Bridges Cup would center around scores, of course, but it also needed to be wrapped with an unprecedented vibe.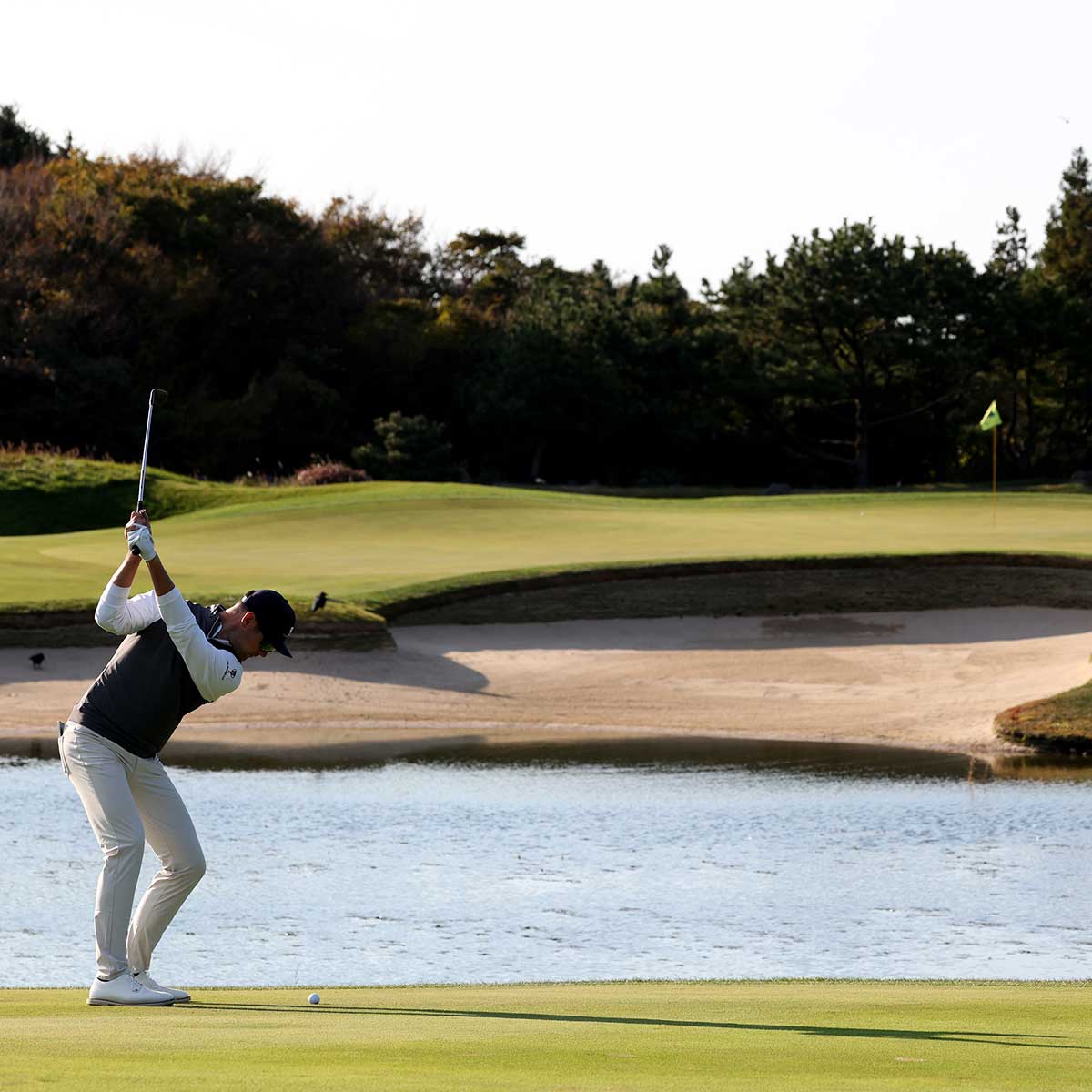 Harry Bolton hits an approach.
MIN SU YONG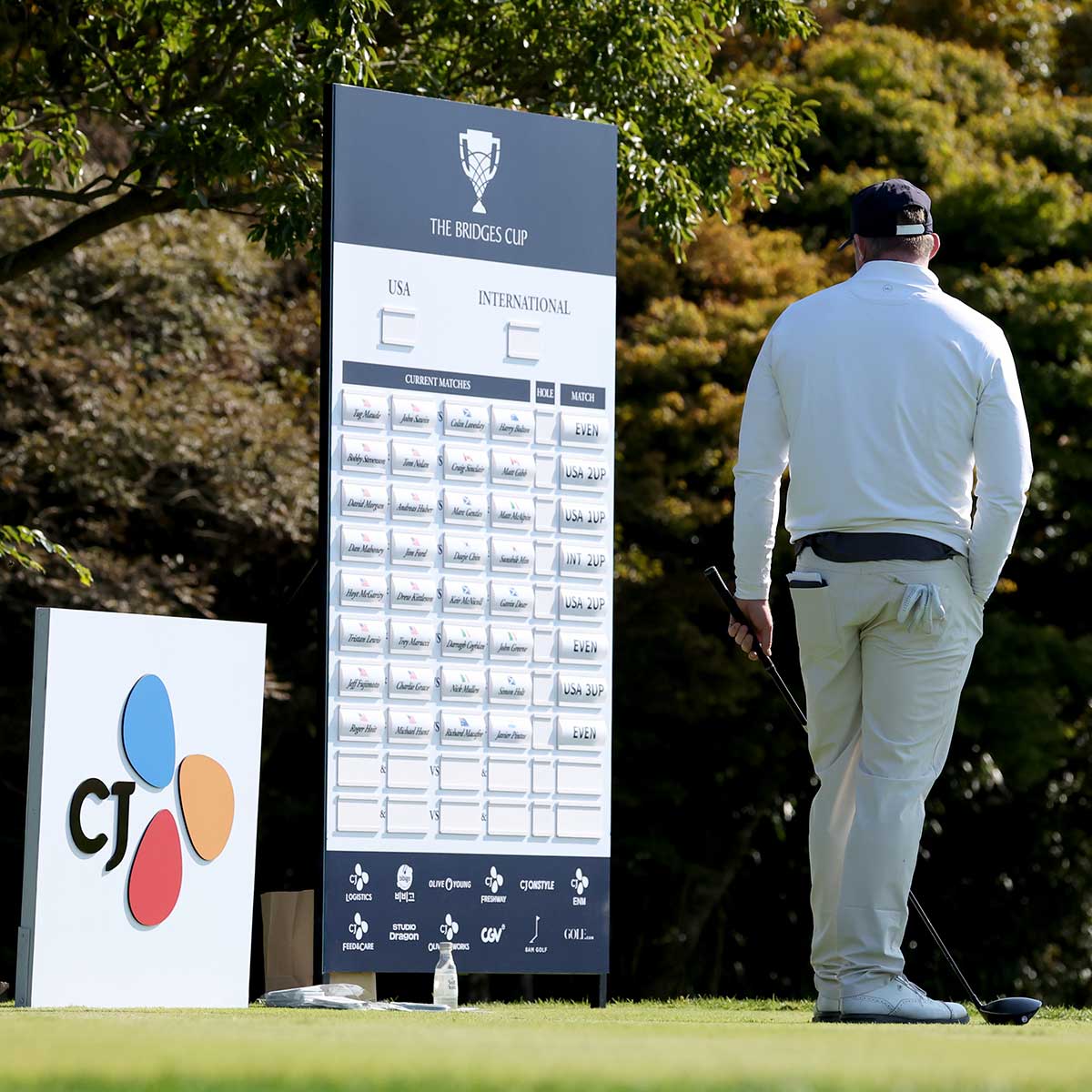 A competitor checks out where the matches stand.
MIN SU YONG
The action at Nine Bridges began with a hot start from Team USA, who led 32 to 7 over Team International after the first round of four-ball matches. Team USA went on to win 13 to 11 in the afternoon round of foursomes. On the second and final day of competition, Team USA won the morning round of four-ball matches 15 to 7, and Team International squeezed out an impressive 16-to-4 win in the final round of foursomes. Team USA, however, was too far ahead and ultimately claimed a commanding 64-to-41 win.
The week's surprise triumph was less tangible than anything displayed on the leaderboards. The opportunity for amateur golfers to compete for their country, proudly wear team uniforms and collectively experience the uniqueness of golf in South Korea brought these participants, many of whom had never met each other, closer together than ever expected.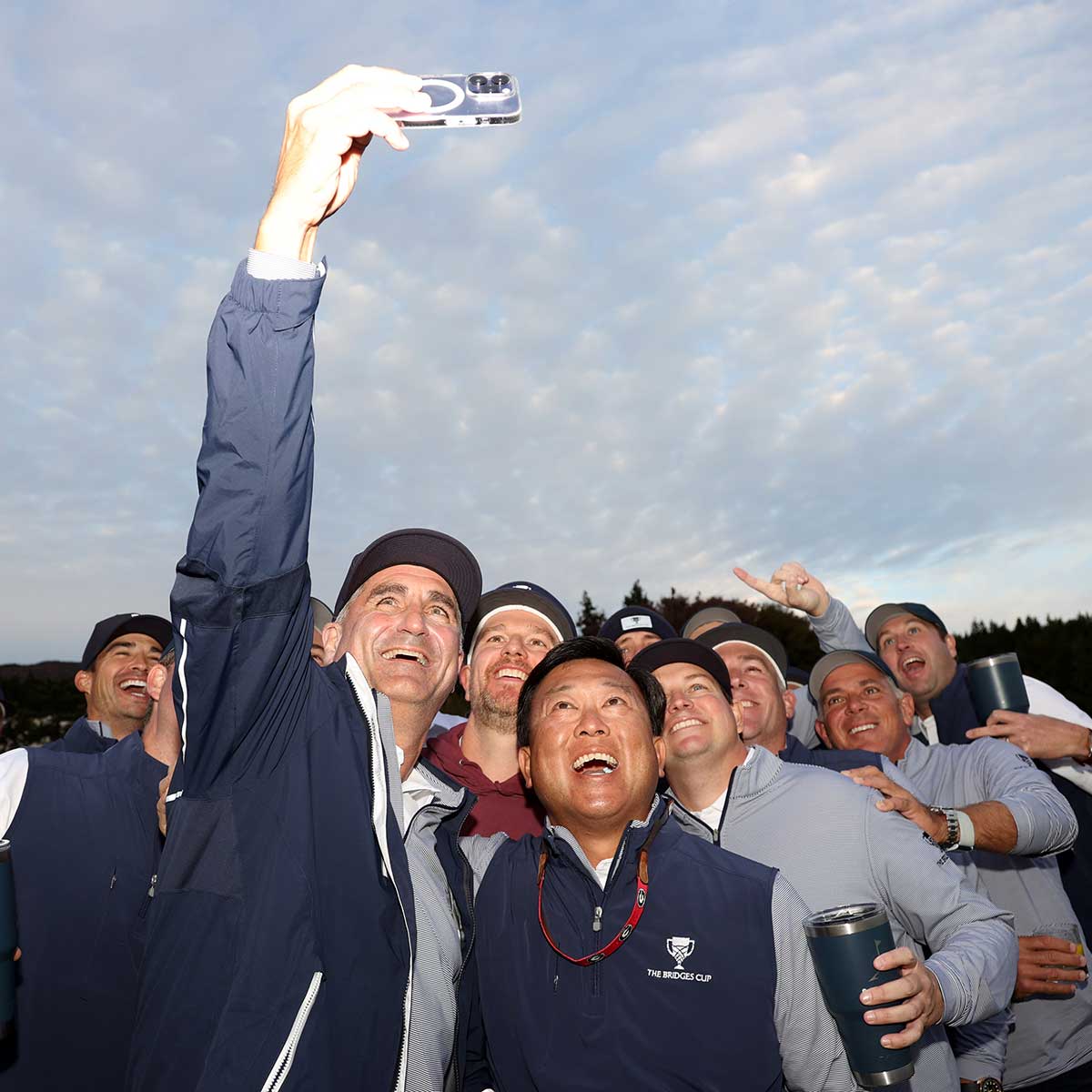 The winning squad's selfie.
MIN SU YONG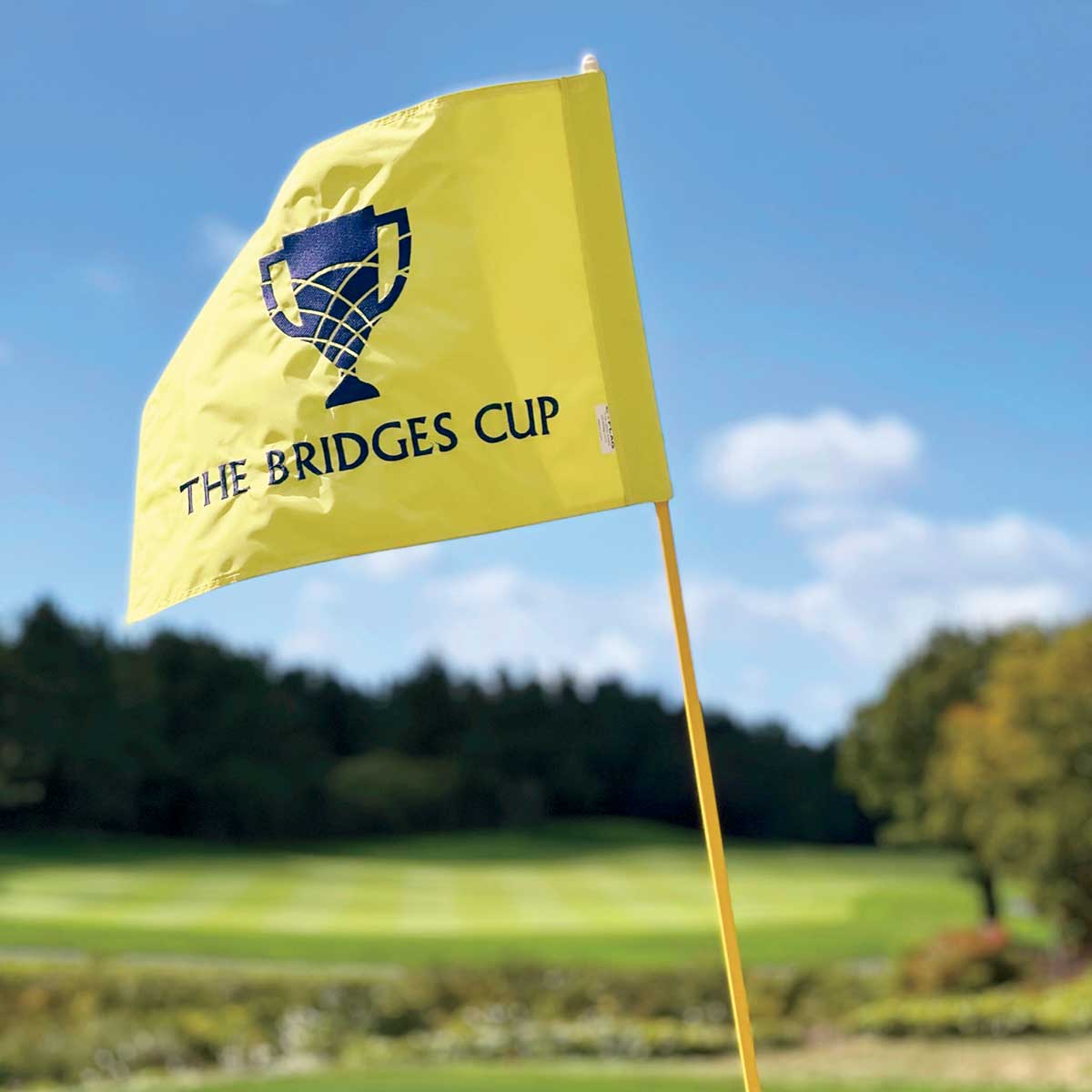 The Bridges Cup's flag blows in the wind.
ASHLEY MAYO
"This was easily the coolest experience of my life, and I feel fortunate to have participated in a number of cool experiences," said Team USA's Tug Maude, a member at Merion Golf Club and the director of market development at Intown Golf. "I loved the effort to make this feel like a Tour-level event. Everything from the swag to on-course signage to being miked for nine holes really made it feel like we were part of something special."
There are only eight bridges at Nine Bridges — the symbolic ninth represents the way golf connects people. The Bridges Cup, in similar fashion, will impact the amateur game and connect golfers in ways that few amateur championships do. As the event develops, its main goal will always be to offer an experience unmatched within the amateur golf space. Competitors are already enthusiastic about returning to South Korea in 2024 when the matches will be held at Haesley Nine Bridges. These two South Korean venues set an impressively high bar for the Bridges Cup. But if this inaugural event serves as any indication, competitors will fly home each year with memories and friendships that will shape them for far longer than anything that transpires on site.