SAINT-LAURENT-NOUAN, France — Twenty-four elite mid-amateur golfers gathered by the Les Bordes Golf Club clubhouse Friday morning for a photo op. The snaps were part of media obligations that the players have before and after their practice rounds at the Bridges Cup, a two-day event that kicks off Saturday and pits a dozen players from the U.S. against their European counterparts. It was an unusual scene for an amateur tournament, but a pro-grade feel is in the Bridges Cup's DNA.
Each player receives uniforms and travel gear the week before they arrive at the venue. Once on site, the teams compete on courses that are suitable for hosting high-level professional events. Even in practice rounds, the players wear their team colors; they're announced on the tee ahead of every match; and there are scoreboards on the courses. The team spirit is high from dawn until well after dusk. To play in the Bridges Cup is to understand how it feels to compete in high-level professional team events.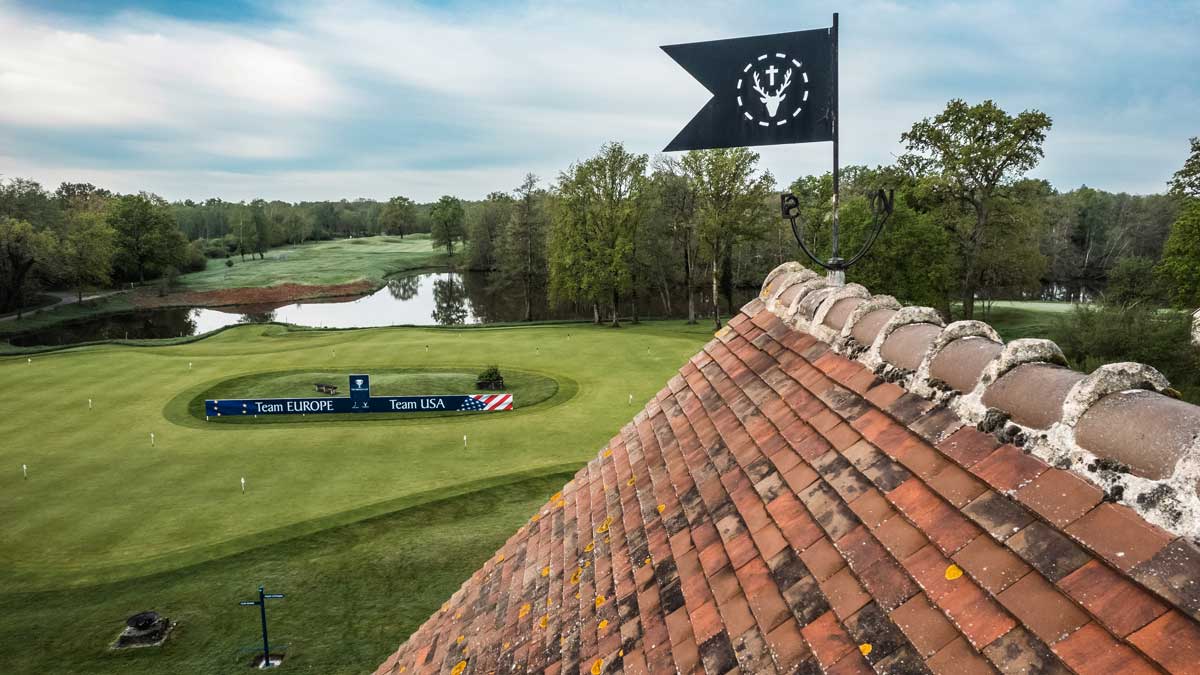 The scene is set at Les Bordes for the Bridges Cup
TAMI HINSON
The Bridges Cup began in 2022 after an investment from CJ Corp, a prominent South Korean holding company. CJ Corp has invested heavily in the professional game over the last decade — CJ Logistics, a branch of CJ Corp, sponsors nine professional golfers, and the CJ Cup at Nine Bridges, the PGA Tour's first-ever event in South Korea, has guaranteed to offer a purse that exceeds $9 million each year through 2026. CJ Corp is now supporting the amateur game in addition to pro golf, and it's leaning on 8AM Golf, a holding company that owns and supports 14 golf brands (including GOLF.com), to bring that amateur investment to life. CJ Corp and 8AM Golf agreed that the most impactful way to support the nonprofessional game was to create an elite match-play team event — one that feels different from the others on the amateur circuit.
CJ Corp will host every even-year Bridges Cup in South Korea, at either Nine Bridges or Haesley, but the event will visit new locations during non-CJ odd years. This weekend, the 2023 edition will be decided at Les Bordes, a 1,400-acre estate 90 minutes south of Paris. Les Bordes has two 18-hole courses — the Old Course, which was designed by Robert von Hagge in 1987, and the New Course, designed by Gil Hanse in 2021 and which ranks among GOLF's Top 100 Courses on the World. The Wild Piglet, a Hanse-designed 10-hole par-3 course, rounds out Les Bordes' golf offerings.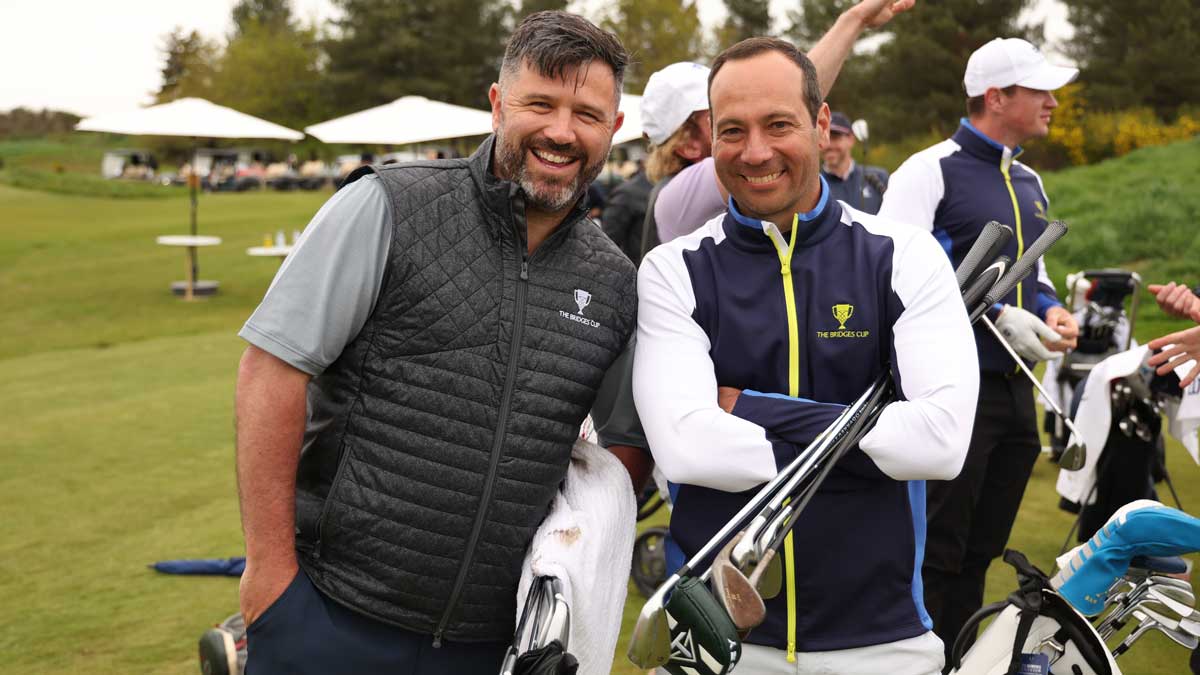 Michael Smyth (Scotland) and Rodrigo Shares (Spain) during a practice round on the Old Course.
OISÍN KENIRY (BOTH)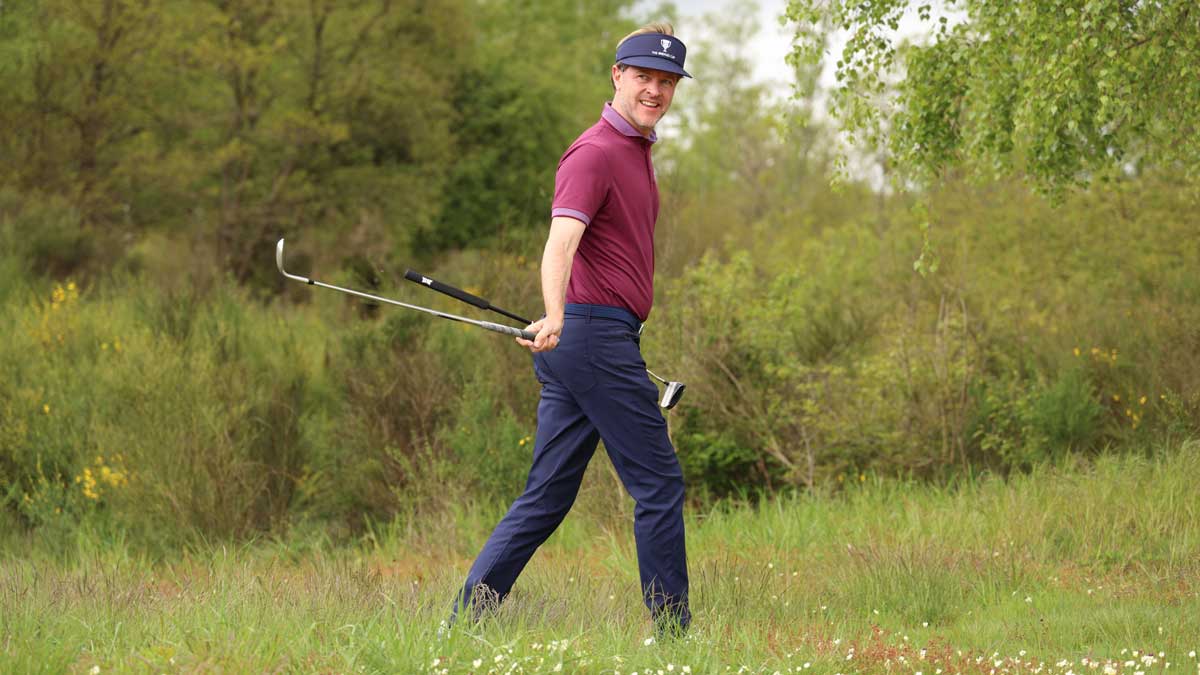 Andrew Medley (USA) practicing on the New Course.
Team USA and Team Europe each have 12 competitors; all have plus-handicaps and were handpicked by their respective captains. Jeff Fujimoto, an advisor to 8AM Golf, is captaining the Americans, and Simon Holt, CEO of the Netherlands-based holding company Top 100 Golf B.V., is leading the Europeans. When identifying potential competitors, the captains weighed players' golf resumes (previous tournament results, affiliated clubs, number of courses played, etc.) and personalities to ensure the Bridges Cup continues to become known for both quality of play and overall atmosphere. Scores matter, of course, but so does the vibe.
Team USA is comprised of players who've competed at the collegiate, USGA amateur and professional levels; on Team Europe are players who have competed in Walker Cups, R&A members and some who've competed professionally. The average handicap of Team USA is +2.7, and Team Europe's average is +3.5.
The competition will mirror the traditional Ryder Cup format, albeit compressed into two days — fourball matches will unfold on the New Course and Old Course on Saturday morning and afternoon; foursomes will follow on the New Course Sunday morning, and singles matches on the New Course will round out play on Sunday afternoon.
If the tournament matches the excitement from 2022, one team will win in thrilling fashion, and everyone will go home with a strong sense of friendship and connection.